Another Vis Moot year and we needed to take a decision on how to proceed with the organization of the 29th Vis Moot in light of the ongoing global pandemic. Covid-19 has become part of our lives for more than one-and-a-half year and will most likely continue to impact our world in the foreseeable future.  Thus the 29th Vis Moot will again take place VIRTUALLY. 
Team Registration
Registration is accomplished by completion and submission of the registration form, which may be done at any time prior to the end of November. Registration is confirmed by payment of the registration fee. The registration fee must be paid until 14 January 2022 unless specific permission for later payment has been given by the Directors of the Moot. The registration starts with 15 September 2021 and closes on 25 November 2021.
Arbitrator Registration
The arbitrator registration opens at the beginning of December 2021 and closes mid of January or whenever capacity is reached. Arbitrators who already participated in the Vis Moot before, have already an arbitrator account and can use the "arbitrator login" instead of the "arbitrator registration" which is only meant for arbitrators who are new to the Vis Moot.


HEARING PLATFORM PROVIDER
We are happy to announce that IDRC will again be the platform provider for the 29th Vis Moot – 3rd Virtual Moot in April 2022. IDRC will host all virtual meetings with the help of Zoom. Further details on the logistics will be announced closer to the event.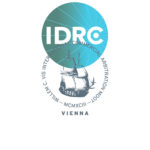 Distribution of the Problem
Deadline for requests for clarification
Closing date for submission of registration form
Payment of registration fee
Memorandum for Respondent
General rounds of argument
Elimination rounds of argument